BOOKS
Three full-length books and one special edition chapbook.
Economics: Poetry and Essays by Daniel X. O'Neil with Jonny Stepping

The book for those with unclean hands. Focuses on the simple fact that the world economy embraces both good and evil. And no one can do good, like feed themselves or clothe their children, without somehow bowing before the presence of evil. Read more about this book here, and see covers, illustrations, and complete text.
Memo To All Employees


Most of the poems here were developed onstage at open mikes in Chicago in the early 90s. Highly influenced by my work as a litigation paralegal working on labor cases. Dedicated to the public library. Read more, including complete text and excerpts.
Boilerplate: Koreshians, Potential Rioters, and Bureaucratic Complicity in American Self-Destruction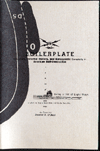 Subtitled, "Being a list of 8 ways in which the dead at Waco were a lot like the rest of us". Designed by Stephen Farrell. Delivered onstage as an eight-movement duet with cello music composed and performed by Dylan Morgan. Gander here for all of our custom-made covers, complete hi-res images of each page, and the complete text.
Bricks: A New Book of Poems


Our first book, December 1992. Doesn't seek to overreach. No decoration. Bricks are good because they are for building, but if things go south, you cn always pick one up and crack someone over the head with it. See more, including complete text, excerpts, and a bonus: custom-designed sandstone pen holder by Mr. Imagination.



PERFORMANCES
Tours, multi-dimensional modern/ classic club performances, and poetry performances all over.
Poetry Performance Tours


Years of shows with talented composers and musicians of all stripes. Including Whirlwind Tour of Chicago, the Coming Tour of Michigan, California Book Tour in Support of BRICKS, the Economics Tour of California with Dylan Morgan and Bob Christy, and the Camel Cigarettes Tour with Bob Christy and Forrest Rausch. Here's a half-hour video of a show at Bop Shop in 1996

Multi-dimensional modern/ classic club performance about the Goddess of Freedom & Democracy at Tiananmen Square. See the complete text, a complete video, the original script, and printed matter associated with the play.
Deluses: Psycho-Battle in One Act
Terror, anger, and desire square off for control of id.
"Revere the Police, Disdain the Citizens"
Bondage verse drama.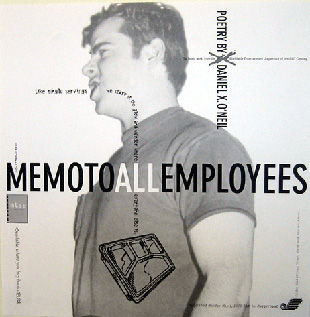 MORE
Weirdly detailed bibliography and the bust-out literary accessory called NecklacePoems.
Bibliography of American Poetry Told Through the Pulitzer Prize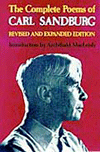 Annotated list books of poetry that won the Pulitzer Prize. This is not a weighing of the value of text, it is an estimation of the book as an object. It's not about superstar poems, ripping them from their published contexts. Introduction, 1920s, 1930s, 1940s, 1950s, 1960s, 1970s, 1980s, 1990s, 2000s, Links
NecklacePoems


Colored, anodized aluminum pendants with a face on the front and a poem on the back. Created by Jonny Stepping. He created the illustrations, concepted and sourced the materials, and oversaw production. NecklacePoems are $10. There are plenty. Write us up and order a few. There are sixteen different necklacepoems-- 4 poems in 4 different colors. Poem (Shakespeare), Love in China, Optimism, and Poem (Spider).
Posters

See and buy "The Goddess Speaks.", Juggernaut Poetry Tour, Injured Child Flown to London, and MTAE Promotional
Audio
Speaking out loud is a big deal to those of us here at Juggernaut. On occasion, we've made recordings of peformances, radio interviews, and musical compositions. Bear with us while we index our collection of recordings and make them available on the Internet. There are two items commercially available-- the < 15 > audio cassette and the "An Evening of X's and O's".